Optical Market Research
inSights Research Program
Powered by The Vision Council
From consumer trends to industry perspectives, The Vision Council's inSights Research Program delivers the timely, usable data and in-depth analysis members need to succeed. 
Our team's experience, the breadth of our research products, and custom research capabilities distinguish The Vision Council as the leader in optical market research and analysis.
The Vision Council announced its NEW inSights Research Program in May 2022.  Designed to better serve the needs of members and the industry at large, the program will provide timely, accessible data on the state of the vision care industry, as well as sophisticated analysis of the market's most relevant trends.
The first of the new program's reports were released in May 2022, with additional reports released throughout the year.
The chart below indicates the reports that will be released in 2023.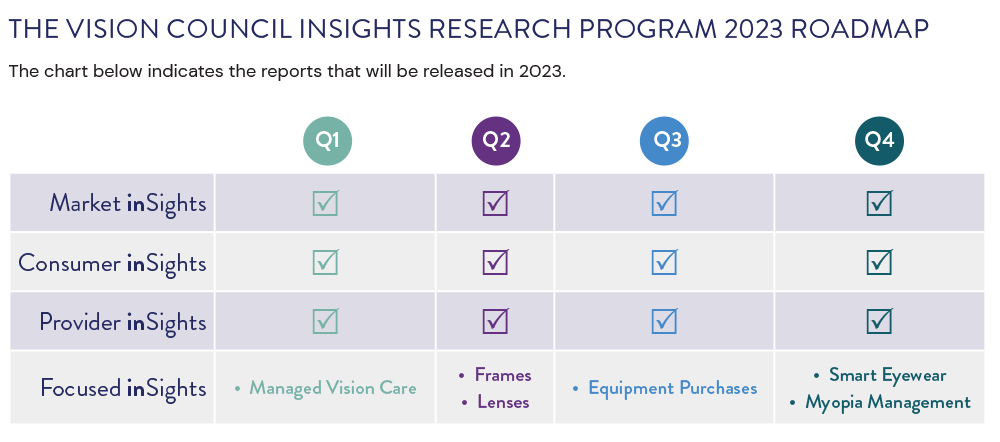 Built on a foundation of rigorous methodology and cutting-edge technology, the inSights Research Program provides a comprehensive perspective on the state of the optical industry through quarterly consumer survey reports; quarterly eyecare provider survey reports; quarterly in-depth special reports on eyewear and eyecare products and topics; and an end-of-year market estimate and industry forecast.
Additionally, inSights+, a paid series of reports, offers additional information at an additional cost and includes detailed crosstabulations of demographic data. 
To learn more about the inSights Research Program.
---
Exclusive Member Benefits
Members of The Vision Council receive access complimentary access to several reports, including Consumer inSights, Provider inSights, Focused inSights, Industry Data inSights and Market inSights.
Not a member? Find out more about The Vision Council.
---
Latest Research
Custom Research Drives Your Business
Custom surveys developed by analysts familiar with the industry working on your behalf to generate the answers you need to steer your company to success.