VisionPAC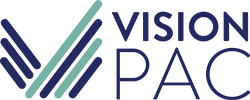 Time and again, we are told the next election is the most crucial for the country. The reality is the vision community is being impacted more than ever before by an increasingly complex legislative and regulatory environment, whether we find ourselves in an election year or not.
VisionPAC will play a vital role upholding The Vision Council's mission – positioning members for success by promoting growth in the vision care industry through education, advocacy, research, consumer outreach, strategic relationship building and industry forums. Over the last decade, The Vision Council has built congressional staff relationships which have been invaluable for the education and drafting of legislative language.
PACs, or Political Action Committees, are an important tool that give us the opportunity to meet with and discuss our priorities with elected officials.
Associations across a multitude of industries attempt to position themselves strategically for the attention of a finite number of policymakers. VisionPAC is a vital, issue-mobilizing force that will allow The Vision Council to protect and promote the interests of our members.
Below you will find a prior authorization form which must be completed before any funds may be solicited from eligible employees of member companies. The Federal Election Commission requires all trade associations to obtain signatures and maintain a record of these forms.
VisionPAC is essential to securing eyecare as an essential part of healthcare with the support of pro-vision care representation in Congress. Please consider signing the Prior Authorization form and becoming a part of VisionPAC today.
Federal law prohibits the VISION COUNCIL OF AMERICA POLITICAL ACTION COMMITTEE ("VisionPAC") from soliciting donations from other than executive and administrative personnel of the Vision Council of America, or from executive and administrative personnel of member corporations who have provided VisionPAC prior written approval, and the families of such individuals. Any contribution received from any other person will be returned to the donor.
VisionPAC Authorization Form