Vision Expo West 2022
September 14 - 17, 2022
Vision Expo West 2022 took place September 14-17 at the Venetian Convention Center & Expo in Las Vegas, Nevada.
Member Events at Vision Expo West
During Vision Expo West, The Vision Council hosted several meetings and events on Wednesday, September 14. 
Members were invited to a complimentary lunch before the All-Member meeting. The meeting offered updates from The Vision Council's team of experts.
To access the All-Member Meeting presentation, click here.  
The Vision Council also hosted several member meetings throughout the afternoon.  
To access the division meeting presentations, visit the division secured pages.   
Vision Expo West 2022 Testimonials
"It was remarkable to see engagement and energy at Vision Expo West at an all-time high this year. We were honored to spend days in rich discussion with our customers about how we can support their practices with our latest must-have collections, advanced lens innovations and best in class services, training platform and business solutions initiatives."
Ludo Ladreyt, Chief Commercial Officer, US Optical at EssilorLuxottica North America
"Vision Expo West was an amazing opportunity for us to support our industry and celebrate our people, products and heritage with our customers with a contagious energy and renewed vigor and strength. It was exciting to be present in very impactful ways with our inviting new open booth concept, educational offerings for ABO credit, industry sponsorships and two super successful customer events for Carrera and BOSS. It was also the perfect setting to celebrate our 60th anniversary of commercial presence in North America and officially unveil our new campaign for the market defining partnership with a fresh new approach."
Francesco Rinaldi Ceroni, President & CCO of North America, Safilo Group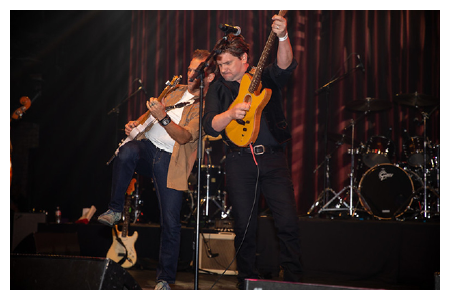 "Vision Expo is invaluable for us at IOT. We use this event to reconnect with our customers and our own remote teams. It is a great time to discuss initiatives, announce new products and technologies, and most of all listen to our customers so we can respond to their business and technological needs. Participating in Vision Expo helps us in so many ways, we consider it to be one of our best marketing investments."
Tina Lahti, VP of Sales and Marketing, IOT
"Dr. Contact Lens is just coming off of Vision Expo West. Wow what a show! You could feel the energy and excitement. Kudos to Vision Expo for recognizing how important New Technology is to the future of our profession and creating the Panorama neighborhood! Dr. Contact Lens and Techifeye were excited to be part of the explosion of technology and new vendors that are the wave of the future and showcased here. The optical industry is changing and the doctors are taking charge for their patients, this show emphasized that new energy!"
Brianna Rhue, OD, FAAO co-founder of Dr Contact Lens & Techifeye
"It was an exciting opportunity to join Vision Expo West. I am happy to have met with some of our customers and partners and spend time getting to know them personally. Being there and seeing all the happenings in the industry really demonstrates the progress we are making collectively. It was great to see my team work so hard to showcase our newest innovation in our products, and I look forward to exhibit more of VisionWeb's innovation in the future."
Nicolas Sinet, CEO, VisionWeb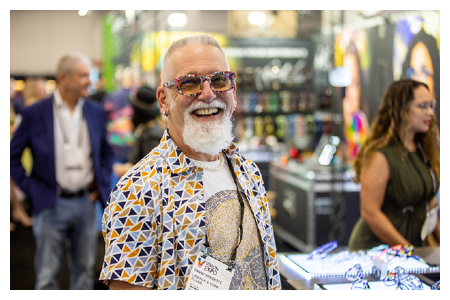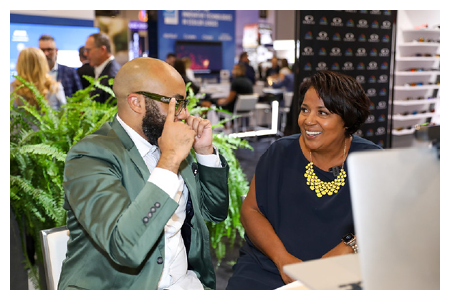 "Vision Expo is an essential in-person event for our company, and this year's show was everything we had hoped for! The strong attendance and robust programming provided countless opportunities to forge new relationships and network with industry partners. Exhibiting our extensive line of value-oriented eyewear and providing live demos of our virtual try-on platform to hundreds of eyecare professionals over 3 days is highly impactful to our organization. The Vision Council meetings also provided excellent insight to our industry."
Ken Weissman, President & CEO, Modern Optical International and OCHO Vision
"It's been great. This is our official launch in the US and Canada market. We had high hopes and expectations and so far it's been very good to see the energy of the people, the interest they have about the brand and what we bring to the table. And it's been good to see the energy, the enthusiasm around sustainability and improving the way the industry is doing things toward the environment."
Thomas Kimber, President, Karun
"Vision Expo West 2022 was a successful show for our company in many ways. We wrote business, we opened new accounts, and we had fun together as a team. It was great to see the aisles busy again and the overall energy was very positive. Most importantly, it was a pleasure to finally catch up with some of the friends and colleagues that I still hadn't seen since 2019!"
Scott Shapiro, CEO, Europa
"It was so wonderful to be back at Vision Expo West and connect with customers and colleagues again in person. We were glad to see strong traffic and a wonderful energy in our integrated VSP Vision booth at the heart of the show."
Thomas Burkhardt, President, Marchon Eyewear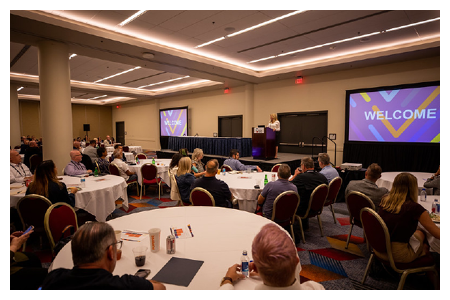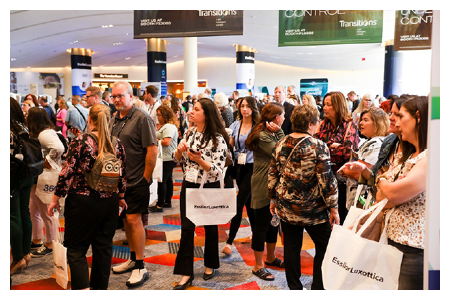 For more information on Vision Expo West, please visit visionexpo.com and follow Vision Expo's social media channels, Facebook, Twitter, Instagram, and LinkedIn.