Speaker Bios
We are thrilled to welcome an exciting line-up of keynote speakers to the 2024 Executive Summit who will dive into relevant and challenging topics including creating change through compassion, artificial intelligence, supply chain management, human resources, and current economic trends.
---
Caroline Casey
President, International Agency for the Prevention of Blindness, and Founder, the Valuable 500
Caroline Casey is a self-proclaimed troublemaker, disability activist, social entrepreneur, adventure and speaker. She operates at the frontier of Diversity and Inclusion (D&I) and is frequently invited to contribute at ground-breaking events such TED, Davos, World Economic Forum, One Young World and Skoll. 
Comfortably straddling the worlds of business and activism, she has the ear of business and access to one of the world's largest community of CEOs to shape a society where everyone is free to be fully themselves. She also sits on Diversity and Inclusion boards for Sanofi, Sky and L'Oréal.
Caroline has a unique ability to bring together the intersection of head and heart. Whether she is being interviewed or working as a panelist or speaker at an event, she moves people to accept themselves and others, make positive changes, realize their own value, and be vulnerable and authentic. 
Her passion and drive are rooted in a unique personal story of trying to fit in with a secret. As a former management consultant and daughter of a successful entrepreneur, Caroline recognized the power of business to make change happen. Today her work is catalyzing business leaders to take full ownership of their inclusion agenda and to shed the constraints that stop inclusion from becoming a reality.
---
Mike Walsh
CEO, Tomorrow
Mike Walsh is the CEO of Tomorrow, a global consultancy on designing companies for the 21st century. For the past twenty years, he has been a leading authority on disruptive innovation, digital transformation and new ways of thinking. A global nomad from a diverse ethnic background, futurist and author of three bestselling books, Mike advises some of the world's biggest organizations on reinvention and change in this new era of machine intelligence.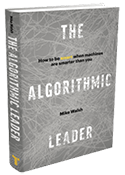 A specialist in AI-powered transformation, Mike's talent is being able to bridge the two worlds of disruptive technology and business leadership, translating deep tech into pragmatic recommendations for leaders to seize new opportunities, transform their organizations, and change their own thinking.
Mike is a prolific researcher who interviews innovators, scientists, entrepreneurs and corporate revolutionaries every year. Many of these conversations feature in his popular podcast, Between Worlds. A prolific writer and commentator, Mike's views have appeared in a wide range of international publications including Inc. Magazine, BusinessWeek, Forbes and the Wall Street Journal. Mike's latest book, The Algorithmic Leader, offers a hopeful and practical guide for reinventing leadership and organizations.
---
Dr. Alan Amling
Assistant Professor of Practice, University of Tennessee, and CEO, Thrive and Advance LLC

Alan Amling is a TED speaker and thought leader on harnessing digital disruption for success.  Alan helped drive innovation over a 27-year career with UPS and is currently an Assistant. Professor of Practice at The University of Tennessee and CEO of Thrive and Advance LLC.  He also serves as an advisor for several supply chain startups and industry organizations. His latest book, Organizational Velocity, was published in 2022.
Alan's last role at UPS was VP of Corporate Strategy, where he helped revitalize UPS innovation and venture capital programs for the digital economy.  He moved into this role after serving as VP of Marketing for UPS Global Logistics & Distribution.  
Alan teaches supply chain, strategy, and technology courses in the online Master of Supply Chain, MBA, and Professional MBA programs.  His research focuses on the digital transformation of the supply chain and disruption in last-mile logistics. 
Alan holds a Ph.D. in Management from Kennesaw State University, an MBA from Indiana University, and a BA in Business and Psychology from Lewis & Clark College.
---
Johnny Taylor, Jr.
President and CEO, The Society for Human Resources Management (SHRM)
Johnny Taylor is President and CEO of SHRM, the Society for Human Resource Management. With over 300,000 members in 165 countries, SHRM is the largest HR trade association in the world, impacting the lives of 115 million workers. A nationally bestselling author, Johnny is a sought-after voice on all matters affecting work. He is frequently asked to testify before Congress and authors the weekly USA Today column "Ask HR."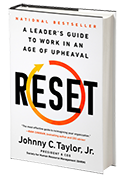 Johnny is the author of RESET: A Leader's Guide to Work in an Age of Upheaval. Immediately upon its release in September 2021, RESET was in the top three of the Wall Street Journal's list of best-selling hardcover business books. All author proceeds benefit the SHRM Foundation, which is committed to empowering HR as a social force for change.
Johnny was appointed chairman of the President's Advisory Board on Historically Black Colleges and Universities and served as a member of the White House American Workforce Policy Advisory Board during the Trump Administration. He is Vice Chair of the Board of Trustees of his alma mater, the University of Miami; and member of the corporate boards of Guild Education, iCIMS, and XPO Logistics.
---
Brian Beaulieu
CEO, ITR Economics
Brian Beaulieu has served as CEO and Chief Economist of ITR Economics since 1987, where he researches the use of business cycle analysis and economic forecasting as tools for improving profitability. Brian has shared his highly valued research results via presentations, workshops, and seminars in numerous countries to hundreds of thousands of business owners and executives for the last 40 years.
Prior to joining ITR Economics, Brian served as an economist for the US Department of Labor, where he worked on the health-care component of the Consumer Price Index. Brian has coauthored, with Alan Beaulieu, the books "Prosperity in the Age of Decline," "Make Your Move," and, for children, "But I Want It!"