UV Protection
The Vision Council works to increase sunglass and other ultraviolet (UV)-protective eyewear purchases, while garnering consumer media coverage surrounding UV eye protection and its members' frame and lens products, through its general UV and National Sunglasses Day campaign. In 2017, general UV and National Sunglasses Day outreach resulted in more than 900 million impressions, and in 2018, this outreach resulted in more than 1 billion impressions. Consumer outreach includes traditional public relations efforts, social media promotions, blogger and celebrity partnerships, media tours and more.
UV MEDIA PITCHING
The Vision Council is working to educate consumers on the eye risks from exposure to the sun's ultraviolet (UV) rays by continuously pitching its key findings from the most recent UV-focused VisionWatch survey to health and lifestyle media outlets nationwide. As part of its pitching efforts, The Vision Council also provides media with information surrounding commonly asked UV-related questions, as well as how to kick start individuals' UV protection habits.
2019 MEDIA PLACEMENTS
Due to its efforts, The Vision Council garnered more than 1.2 billion online, social media and broadcast consumer media impressions for National Sunglasses Day, with one of the official campaign hashtags #NationalSunglassesDay trending on Twitter on June 27.
Organic Social Media Placements
The Vision Council distributed a press release via PR Newswire on June 24, while aggressively pitching social media editors at key outlets, encouraging social media coverage of the campaign using the official hashtags #NationalSunglassesDay and #SunglassSelfie. As a result, The Vision Council has garnered impressions via the Instagram and Twitter pages of Salma Hayek, Kathie Lee Gifford, The Ellen Show, Bethenny Frankel and the U.S. Secret Service, among many others, resulting in more than 800 million impressions.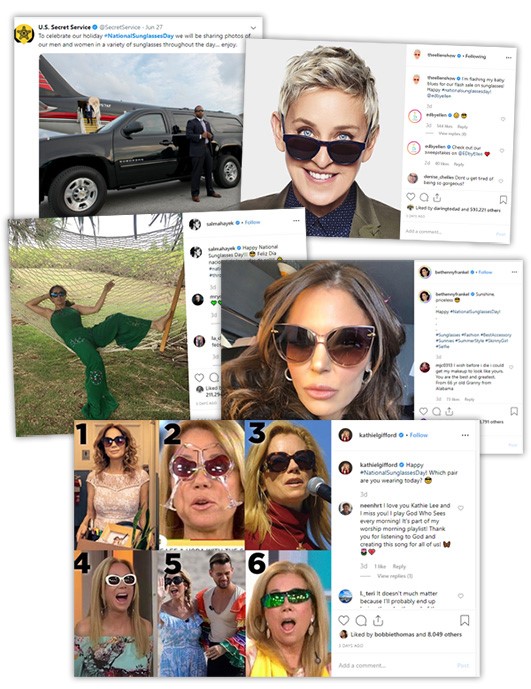 Media Tour Placements
This year The Vision Council partnered with celebrity fashion stylist and television personality Brad Goreski to host a series of interviews to share National Sunglasses Day messaging to consumers. The media tour—which resulted in ~23 live and live-to-tape TV and radio interviews—was strategically filmed on June 19, one week prior to National Sunglasses Day, to allow stations more time to prepare their segments leading up to June 27. The media tour has secured 111 placements, resulting in more than 186 million broadcast and online impressions on outlets like "Access Hollywood" and "The Daily Buzz" among many others. As part of The Vision Council's partnership with Brad, he also published a sponsored Instagram post for the occasion.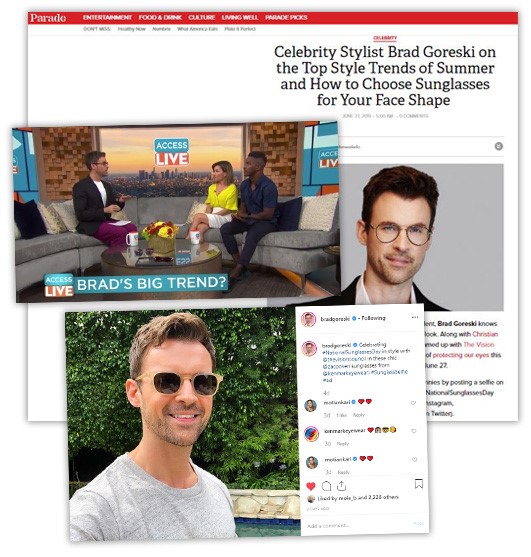 Online Media Placements
Through The Vision Council's pitching efforts, National Sunglasses Day was covered via renowned web outlets including golfdigest.com, yahoo.com, parade.com, elitedaily.com and hollywoodlife.com, among many others, resulting in 223 million impressions.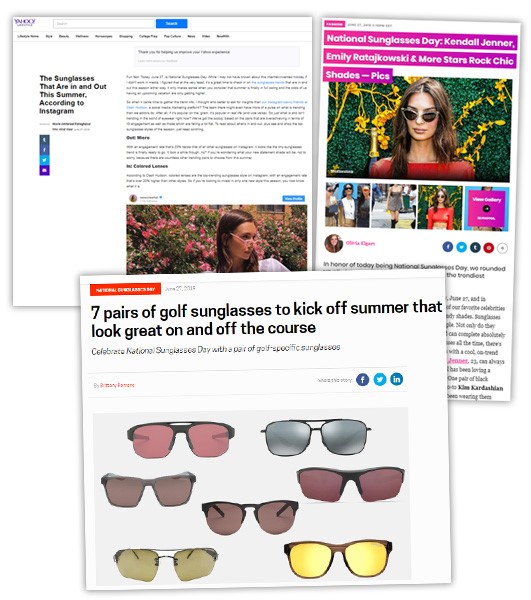 Industry Placements
The Vision Council encouraged the industry at large to promote National Sunglasses Day. Organizations like Maui Jim, Shwood, MODO, Europa, WestGroupe and TURA among many others, offered exclusive online sales incentives, hosted giveaways and more for the commemorative date. Additionally, Optic Nerve, sponsor of the Colorado Rockies, held an interactive event at the field on June 27, and wished the entire stadium a happy National Sunglasses Day on the field sign along with an announcement encouraging game attendees to share an image on social media using the day's official hashtags.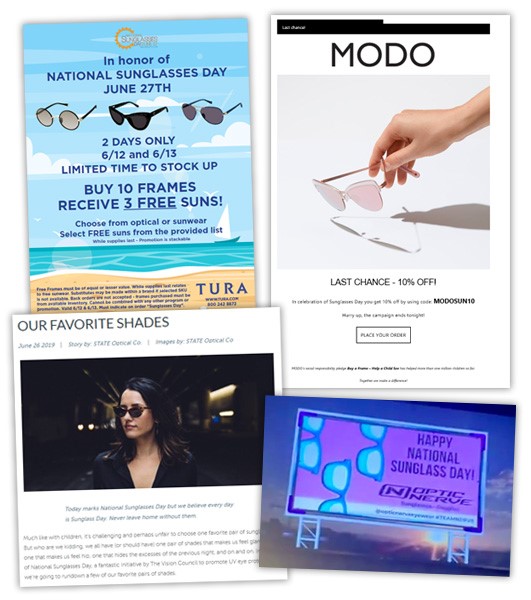 Please direct questions regarding National Sunglasses Day and The Vision Council's efforts to Maureen Beddis, The Vision Council's vice president of marketing and communications, at mbeddis@thevisioncouncil.org.