Lab Division Meeting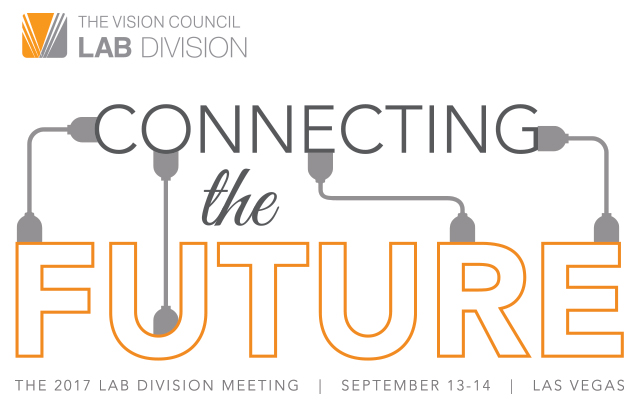 The 2017 Lab Division meeting will be held in conjunction with Vision Expo West in Las Vegas, NV. With components thoughtfully designed to help lab professionals grow and succeed through education, exclusive receptions and events, including The Vision Council Lab Division Hall of Fame, the annual Lab Division Meeting is the complete lab event.
The education program will feature thought-leaders, specialized experts and panelists tackling trending industry topics of importance to labs, and include hours of dedicated networking time.
Sessions will include:
Wednesday

2-2:30 p.m. - Lab Division Update, Steve Sutherlin
2:30-3:15 p.m. - Industry 4.0/Smart Manufacturing, Speaker (TBD) from MESA Intl
3:15-4 p.m. - Industry 4.0 Panel Discussion, Key equipment vendors

Thursday

8-8:25 a.m. - Technical Update, Michael Vitale
8:25-8:45 a.m. - Legal Update, Rick VanArnam
8:45-10 a.m. - Cyber Security Update, Tom Fleming from VSP
Times and Registration
Lab Division Hall of Fame
The rich history of the optical industry is celebrated through the annual induction of individuals into the Lab Division Hall of Fame. Individuals selected for membership to the Hall of Fame are those who have influenced or contributed to the advancement of the optical laboratory industry.
The Lab Division has named Marty Bassett, President & CEO of Walman Optical Company, as the 2017 recipient of the Directors' Choice Award. Established in 1987 under the Optical Laboratories Association, now the Lab Division of The Vision Council, this award honors individuals and companies that have made outstanding contributions to the ophthalmic industry. Now in its 31st year, the award is still recognized as one of the most prestigious in the industry.
Marty Bassett will be recognized alongside this year's Lab Division Hall of Fame inductees at the Hall of Fame banquet, held during The Vision Council's Lab Division meeting at International Vision Expo West.
2017 Lab Division Hall of Fame Inductees
John Art, Interstate Optical
Lorinda Fraboni, Walman Optical
James Goerges, Precision Tool Technologies, Inc.
William H. Heffner, III, FEA Industries, Inc.
Lawrence Lahr, Eye-Kraft Optical, Inc.
Mark Mattison-Shupnick, Jobson and MMS Consulting, formerly of SOLA
Drake McLean, Dietz-McLean Optical
Joe Vitale, Essilor of America, Inc.
Register now for the Hall of Fame and Directors Choice Dinner!
View a list of past Hall of Fame Honorees here.
View a list of past Directors' Choice winners here. 
Additional Information
For more information about the Lab Division, visit the Lab Division section of the site.