Better Vision Institute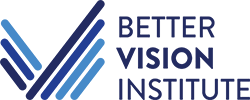 The Better Vision Institute is the charitable supporting organization of The Vision Council. Opening Your eyes: The Vision Council Scholarship Fund is a new program designed to support high school students in underrepresented communities throughout the United States who have an interest in pursuing a career in the optical industry.  The program will support selected students through monetary scholarships to opticianry school, paid internships and mentorships.  The intent of the program is to launch a far-reaching effort that can expand to other segments of the industry.
Click here to learn more about Opening Your Eyes: The Vision Council Scholarship Fund.